PSJ Condemns all Anti-Asian Violence and Gender-based Violence
Pacifica Social Justice stands in solidarity with our Asian, Asian American, and Asian Pacific Islander community members against incidences of hate, racism, misogyny, and violence.
On March 16th a 21 year old white male purchased a gun and went on a shooting rampage at 3 different spas in Atlanta, Georgia. The shooting spree targeted Asian owned massage parlors and left 8 people dead, 6 of whom are Asian women. This tragedy speaks to the pervasiveness of white supremacy in the United States and the Anti-Asian sentiment that has been prevalent in the US from the 1844 Chinese Exclusion Act, to Japanese Americans being put in internment camps in 1942, to US Imperialism in Asian countries for decades, to the Jim Crow laws that legalized racial segregation until 1965.
Anti-Asian xenophobic rhetoric has gained momentum in the wake of Covid-19 as amplified by Donald Trump and normalized in mainstream media. As a result, we have seen an increase in violence and harassment directed at the Asian American Pacific Islander (AAPI) community, with the organization Stop AAPI Hate reporting 3,800 incidents this past year. 70% of these have been directed towards women.
The Atlanta spa shootings exemplify the pervasiveness of the fetishization and sexualization of Asian women, much of which has been a direct result of the dehumanization of Asian women as a result of US militarism and foreign policy. Historically, US military presence in the Asia-Pacific region has resulted in social and economic destabilization that has killed, displaced, and torn apart API (Asian Pacific Islander) families and led to the commodification of Asian women. The negative stereotypes often assigned to API women are rooted in colonization, misogyny, and racism and continue to harm Asian women across the globe.
We want to be clear that in our solidarity with the Asian Pacific Islander community, our calls are not advocating for an increase in policing. Police have historically inflicted violence upon the Asian community, sex workers, low wage workers, and immigrants. We believe that an increase in policing will do more harm to the Asian community and take valuable resources away from supporting the API community directly.
We recognize that the fight against Anti-Asian hate is not separate from the struggles of Black, Indigenous, and People of Color (BIPOC) communities. We need to push back against the structural racism and white supremacy that permeates many of our institutions. We will continue to organize in solidarity with BIPOC groups that stand up against hate and racism and work to dismantle white supremacy.
To our Asian American and Asian American Pacific Islander neighbors, families, friends, and colleagues, you are not alone. We stand with you and value your contributions and presence in our community. We stand in solidarity with you against hate, violence, misogyny and racism.
Pacifica CA: Fascism and White Supremacy — Not Here, Not Anywhere
https://www.indybay.org/newsitems/2021/01/18/18839425.php
On January 17 social justice activists held a demonstration denouncing white supremacy and fascism along Highway 1 in Pacifica.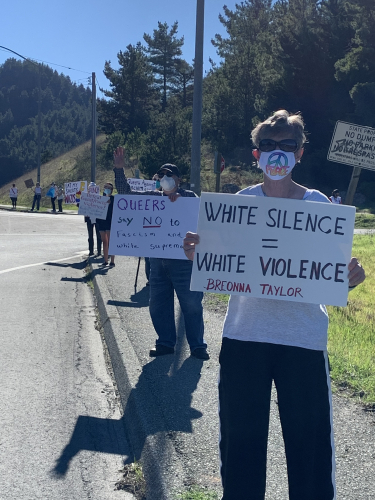 Thousands of people heading down the Pacific Coast Sunday, January 17, were cheered to see people holding signs such as "White Silence = White Violence" and "I Hate Fascism." Drivers, slowed by the weekend traffic waved, cheered and clapped.
"We thought it was important to be out in the public on the day that fascists had announced they would have armed marches in state capitols and DC to follow their rampage through Washington DC," said one sign-waver. "White supremacists are not welcome here, or anywhere."
The demonstration was organized by Pacifica Social Justice, a group which formed in January 2017. PSJ successfully campaigned for a strong sanctuary city ordinance in 2017, and has been involved in a number of social justice struggles including campaigns against police violence, and for tenants' rights.
Other signs included "Queers Say No to Fascism and White Supremacy," "Punch Nazis," and "Black Lives Matter."
"It's not that we're not afraid of these armed white marauders, it's that we are determined to end racism and these fascists will not win," said Tory who went along the socially distanced line with a speaker playing Rhiannon Giddens cover of Woody Guthrie's "All You Fascists Bound to Lose."